THE FEATURES OF COMPLEX TREATMENT, CARE AND REHABILITATION FOR DISABLED CHILDREN SUFFERING FROM CEREBRAL PALSY IN POLAND AND SLOVAKIA
Анотація
The peculiarities of approach to organization of complex treatment, care and rehabilitation for the child patients with cerebral palsy in Poland and Slovakia were described in the article. Some problems about diagnose and etiology factors were discussed. The main model proposed by M. Gordon is used for patient's needs division according to Functional Pattern. The medical care is carried out depends on 3 group of diagnoses according to North American Nursing Diagnosis Association – International:1) problem-focused; 2) risk diagnosis and 3) health promotion diagnoses.
Посилання
Balcerzak-Paradowska B, editor, Głogosz D, et al. Children and Disability in Poland: Country Analytical Report 2002. Warsaw; 2002. 48 p.
Bullough B, Bullough V. Nursing in the Community. St. Louis: Mosby Co.; 1990. 712 p.
Farkašova D, et al. Determinanty zdravia. Martin: Osveta; 2018. 120 p. Slovak
Hanzlíková A, et al. Komunitné ošetrovateľstvo. Martin: Osveta; 2006. 279 p.
Krukowska-Andrzejczyk B, Cebula A, Głuszkiewicz E, Kopyta I. Czy terapia komórkami macierzystymi to przyszłość w leczeniu pacjentów z Mózgowym Porażeniem Dziecięcym? Neurologia Dziecięca [Internet]. 2019;28(56):27-38. doi: 10.20966/chn.2019.56.438. Polish
Kyschenko ОО, Lazareva ОB. Dynamics of life quality of children with cerebral palsy by influence of occupational therapy and physical therapy. Journal of Education, Health and Sport [Internet]. 2018;8(4):479-87. doi: http://dx.doi.org/10.5281/zenodo.1250530
MacLennan AH, Lewis S, Moreno-De-Luca A, et al. Genetic or other Causation Should Not Change the Clinical Diagnosis of Cerebral Palsy. Journal of Child Neurology [Internet]. 2019;34(8):472-6. doi: 10.1177/0883073819840449
Magurová D, Majerníková L. Edukácia a edukačný process v ošetrovateľstve. Martin: Osveta; 2009. 155 p. Slovak
Masgutova S, Koberda JL, Shackleford P, Nowak K, Akhmatova N, et al. Effect of the MNRI Reflex Neuromodulation on the QEEG and Neurotransmitters of Children Diagnosed With Cerebral Palsy. J Neurol Neurobiol [Internet]. 2020;6(3):1-29. doi: 10.16966/2379-7150.170
National Center for Health Statistics: Health, United States. 2005; 525 p. Available at: https://www.cdc.gov/nchs/data/hus/hus05.pdf
Paneth N, Hong T, Korzeniewski S. The Descriptive Epidemiology of Cerebral Palsy. Clinics in Perinatology [Internet]. 2006;33:251-67. doi: 10.1016/j.clp.2006.03.011
Sadowska M, Sarecka-Hujar B, Kopyta I. Cerebral Palsy: Current Opinions on Definition, Epidemiology, Risk Factors, Classification and Treatment Options. Dove Press journal: Neuropsychiatric Disease and Treatment [Internet]. 2020;16:1505-18. doi: 10.2147/NDT.S235165
Streja E, et al. Congenital cerebral palsy and prenatal exposure to self-reported maternal infections, fever, or smoking. Am J Obstet Gynecol [Internet]. 2013 October; 209(4): 332.e1–332.e10. doi: 10.1016/j.ajog.2013.06.023
Winter S, Autry A, Boyle C, et al. Trends in the prevalence of cerebral palsy in a population-based study. Pediatrics [Internet]. 2002;110(6):1220–5. doi: 10.1542/peds.110.6.1220
Zhang S, Li B, Zhang X, Zhu C and Wang X. Birth Asphyxia Is Associated With Increased Risk of Cerebral Palsy: A Meta-Analysis. Front. Neurol [Internet]. 2020;11:1-8. doi: 10.3389/fneur.2020.00704
Žiakova K, a kol. Ošetrovateľstvo: teória a vedecký výskum. 2 vyd. Martin: Osveta, 2009. 323 s. Slovak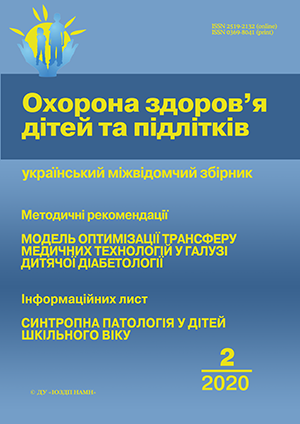 ##submission.downloads##
Ліцензія
Авторське право (c) 2021 A. Siwiec, I. Kwiecień-Czerwieniec, N. Dubrovina, A. Lipovska, V. Klymenko
Ця робота ліцензується відповідно до Creative Commons Attribution-NonCommercial-NoDerivatives 4.0 International License.